Payment processing has long been a cost centre for dropshipping ISVs. They're obligated to refer clients to third-party payment facilitators while receiving a little benefit in return. Yet, they are still expected to handle payment-related disputes from merchants. 
Payment acceptance for dropshipping platforms is also notoriously volatile. For example, Shopify and drop shippers have a difficult relationship after it removed its authorize.net payment gateway recently. This left dropshippers with few payment acceptance options.
But what if ISVs could overcome these hurdles, offer merchants payment stability as a USP, and unlock a hidden revenue stream?
Here's how payment facilitation as a service can help you achieve these goals.
1. Plug-and-play payment facilitation for an instant platform upgrade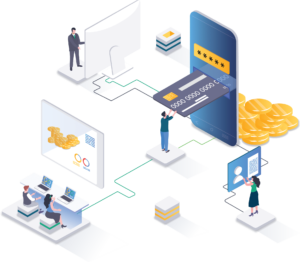 As a dropshipping platform, your primary goal is to offer a complete product suite to your merchants. Payment acceptance is a significant part of the overall experience, and plug-and-play payment facilitation as a service product delivers an instant platform upgrade.
Large dropshipping platforms often opt to become their own PayFacs. This allows them to control every aspect of their payment acceptance process and remove any transaction or usage fees paid to third-party PayFac-as-Service providers. 
Unfortunately, becoming your own payment facilitator is fraught with risks. You need a team of developers and in-depth knowledge of payment industry regulations. Violating these regulations, even by accident, results in large fines.
Dropshipping ISVs anticipating less than $500 million in annual processing volumes quickly find that becoming their own PayFac doesn't offer any positive ROI.
In exchange for a monthly fee, you'll profit from including integrated payment acceptance solutions on your dropshipping platform.
Other benefits offered by a stellar PayFac-as-a-Service provider are:
Letting your merchants accept payments from the moment they sign up streamlining your onboarding process.

Building loyalty among merchants who appreciate the smooth UX and convenience your payment acceptance solution offers.

Incentivizing existing merchants to refer others to your platform for convenience and stability.

Monetizing your payment platform to unlock a new revenue stream.

Seamless integration with your existing platform, so you don't have to do any coding or development yourself.

Providing a range of payment acceptance options to suit your merchants' varying needs.
2. Access top-notch compliance and fraud monitoring
Dropshipping is categorized as a high-risk industry by many payment processors. Traditionally, fraud and compliance monitoring has proven exceptionally difficult for dropshipping merchants and ISVs. 
Friendly fraud and chargebacks all cut into your merchants' bottom line and can make it difficult for them to maintain their reputation and liquidity. Unintentionally violating compliance regulations could also result in massive fines, stunting their business growth. 
Here's how an experienced payment facilitator can help you deliver industry-leading compliance and fraud protection:
→ DATA MONITORING
Chargebacks quickly pile up to cut significantly into most dropshipping merchants' profits. An expert payment facilitator can reduce your merchants' losses by using its industry knowledge and dedicated fraud detection technology. These features enable it to monitor transaction data and alert your merchants to potentially harmful purchasing trends. 
By identifying unusual transactions and chargeback patterns from suspicious IP addresses, your PayFac-as-a-Service provider can flag a potentially risky customer profile. This will save them from fraudulent chargebacks that leave them responsible for covering the cost of the product, shipping, and reverse logistics. 
→

RESPONSIVE RISK MANAGEMENT

 
A good PayFac-as-a-Service provider will have extensive knowledge of high-risk industry compliance requirements. Unlike other providers of PayFac-as-a-Service for ISVs, like those offered by Shopify for eCommerce payments, a reliable payment facilitator won't arbitrarily freeze its users' accounts after certain sales milestones. 
Instead, it will unobtrusively carry out the appropriate Know Your Customer processes and data collection during onboarding. Your merchants won't face any unexpected holds on their accounts or payout freezes as a result. 
→ INTELLIGENT COMPLIANCE
A great payment-facilitation-as-a-service provider will ensure its customers follow all payment acceptance regulations while offering a smooth, uninterrupted experience to those using its payment platform. This two-pronged approach ensures your dropshipping platform maintains its excellent compliance reputation while still allowing unencumbered revenue growth.
3. Build a passive revenue stream with payment-facilitation-as-a-service
Traditionally, the payment processing process has been a costly endeavour, requiring ISVs to pay transaction and usage fees while benefiting little from providing payment processors with merchants. By working with the right PayFac-as-a-Service provider, you can instead monetize your platform's payment solution and build a new revenue stream. 
The interchange fees payment processor charge are usually around 2.79% of the transaction amount plus another 30 cents per transaction. In exchange for the convenience of integrated payments and acceptance stability, you could charge an additional 0.2% and five cents per transaction. 
Here's how those additional fees make a difference.
Example of a payment facilitation-as-a-service passive revenue stream
Let's say you have 1,000 merchants using your dropshipping platform.

Each merchant records average revenues of $10,000 from processing 200 transactions per month.

That equates to $10 million processed and 200,000 transactions monthly.

Based on your markup of 0.2 percent, you'd make (0.2 percent of $10 million) $20,000 from facilitating payments.

The extra five cents per transaction equals (5 cents * 200,000 transactions) $10,000 in revenue.

 

Even better, there's no limit to how much revenue you can generate this way. The more your ISV grows, the more merchants you onboard, and the more transactions your platform processes, the more your passive revenue increases. Plus, as your transaction volumes increase, any reputable PayFac-as-a-Service provider will offer special pricing for using its services, further boosting your margins from this stream.
4. Use expert payment facilitation guidance to customize payment pricing models
PayFac-as-a-Service can do more than open an additional revenue stream for your dropshipping ISV. Experienced providers can help you create custom payment processing models that best suit your business.
For example, you could offer your merchants various pricing tiers based on the value of the transactions they process. You could charge: 
A flat rate for merchants that process less than $5,000 a month.

Interchange pricing plus a moderate markup for clients processing between $5,000 and $15,000 (as we illustrated in the previous section).

Lower markups but larger per-transaction fees for merchants above the $15,000 threshold.
A payment facilitation-as-a-service provider can analyze transaction volumes and value trends across your merchants' activities. Using this data, you can create custom pricing models to maximize your revenue across each transaction range. 
By catering to your merchants according to their revenue range and transaction volume, you can ensure they receive the best value for their money, no matter their size. They grow, and your payment processing revenue stream grows with them. 
How GETTRX's PayFac-as-a-Service can help
GETTRX has provided businesses of all sizes and risk profiles with comprehensive payment acceptance solutions for more than 30 years. This makes us the ideal PayFac-as-a-Service provider for dropshipping ISVs looking to turn their payment processing into a revenue stream. 
The benefits we offer our clients include:
Use of fully owned technology – We own every part of our PayFac-as-a-Service tech stack, thereby avoiding the risks associated with outsourcing coding or development processes.

Peace of mind for SaaS platforms – Our decades of tech expertise in processing SaaS payments mean we understand the pain points and solutions for every part of the payment process.

Revenue stream guidance – Our payment facilitation-as-a-service team can advise you on pricing models and fee structures best suited to boost your dropshipping platform's revenue.

A human approach to fraud monitoring and compliance – Our experience catering to high-risk industries means we take the necessary steps to avoid disruptions to your merchants' payment acceptance abilities.

A chance to own the payment experience – We provide the opportunity for you to white-label our payment platform so you can ensure seamless CX for your merchants and their customers
For too long, dropshipping platforms have outsourced payments for little to nothing in return. Partnering with an experienced, customer-oriented PayFac-as-a-Service provider can unleash your dropshipping SaaS platform's potential to generate passive revenue and attract merchants by streamlining your platform's UX. 
Curious about how GETTRX's PayFac-as-a-Service can boost your dropshipping SaaS platform's revenues by creating a new revenue stream? Get in touch with us!
Why do dropshipping platforms need payment facilitation-as-a-service?
A payment facilitation-as-a-service provider offers dropshipping ISVs a range of benefits, including:
Fast onboarding and near-instant payment acceptance abilities.

Improving your platform's UX, encouraging existing merchants to keep using your services and refer others to you.

Offering you a chance to monetize your payment platform and increase your revenue.

Supplying a variety of payment acceptance options so you can cater to all your merchants' needs.
How can PayFac-as-a-Service boost revenue? 
Working with a PayFac-as-a-Service provider allows you to place markups on your merchants' transaction fees according to various pricing models. Three common pricing models are: 
Flat transaction fees for merchants processing less than $5,000 monthly.

Moderate markups and transaction fees for merchants processing between $5,000 and $15,000 monthly.

Lower markups but larger per-transaction fees for merchants processing more than $15,000 monthly.
What should you look for in a reliable PayFac-as-a-Service provider for your dropshipping platform?
The following features are hallmarks of a reliable PayFac-as-a-Service provider: 
Intelligent fraud monitoring.

A human approach to compliance.

Dedicated revenue guidance to ensure both you and your merchants benefit from its services.

Seamless integration of their payment facilitation software into your platform.