Without Any Prior Declaration, Shopify Silently Removed Authorize net As a Payment Gateway
Yes, you read it right! 
An untold number of Shopify customers have verified that when they try to add Authorize net as a payment provider, it does not appear among the options to choose.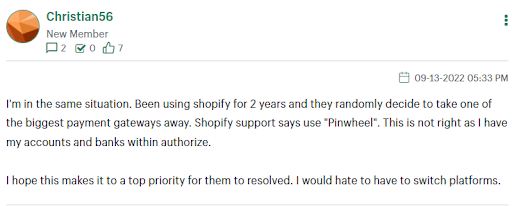 Moreover, Shopify and Auth.net issues are known to create challenging situations at the moment, especially for small businesses and high-risk merchants by dictating terms arbitrarily.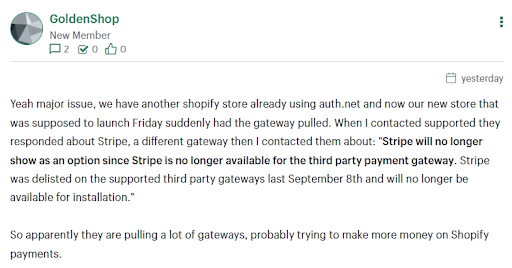 Often, people don't realize that Shopify Payments is a white-labeled version of the famous "Stripe" third-party payment aggregator. Moreover, if you come from an industry that is termed as "High-Risk", Shopify payments might not be an ideal solution for you. 
Indeed, Shopify Payments is known to drop merchants with no prior warning, leaving them high and dry when everything comes down to accepting digital payments from their customers.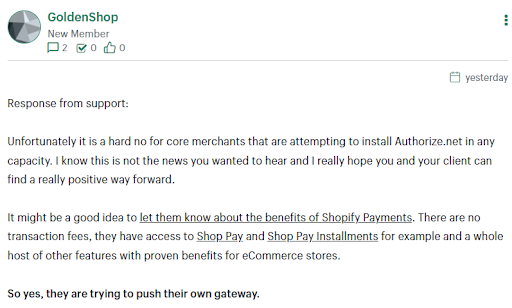 We have solely validated from Shopify customer service that Shopify – without any prior notice or declaration, has silently eliminated authorize.net from the list of its supported payment gateway on 8 September 2022. 
There was no announcement on the official website regarding the Shopify and Auth.net issue ; also, the Shopify support members we interacted with were surprised to know that Authorize.net was no longer on their supported payment gateways list.
So, it's true – Shopify will no longer allow new Authorize.net integrations.

"Shopify vs Authorize.Net" Is Not The First Time! NMI (Network Merchants) Removed by Shopify In 2018.
In 2018, apparently without notice, Shopify discontinued its support for new businesses integrating the NMI payment gateway. This action caused businesses a tremendous pain in the neck as they were just on the brink of integrating and launching their Shopify store with the NMI payment gateway. 
Though, there was a subtle difference! The business owners could get support from their merchant account provider to swap the gateway interface from NMI to Authorize.net. 
But, Shopify removed Authorize.Net, it's a bigger challenge!
Shopify Leaves "High-risk Merchants" Baffled and Fearful
There are no words to overstate the turmoil this will bring for the merchants about to launch their websites. Especially, websites selling CBD, adult toys, tactical items, premium cigars, glass, firearms, nutritional supplements, and an untold number of other categories are understandably bummed out.
Shopify's payments has a long list of banned users which sheath many, if not, most high-risk businesses encountered nowadays.
Primarily, businesses have invested countless hours and thousands of dollars in creating their Shopify site. But, now as Shopify leaves high-risk merchants baffled, it seems like they would face challenges in accepting payments, because Shopify has payment gateway lock-in. 
Try searching for the term "Shopify holding my payment" and you'll see why people are turning their backs on Shopify's eCommerce ecosystem. 
Shopify is Planning To Hold Your Business Hostage With Payment Gateway Lock-in
Shopify, to protect its commission-based model, introduced a payment gateway service, which is not a good practice for today's eCommerce industry.
One-choice option never does good for the community, as it limits innovation and triggers exploitation.
Shopify offers Shopify Payments and a Shopify Balance merchant account in partnership with Stripe. This is why it causes numerous challenges for SMEs in withdrawing their monthly payments. 
Though Shopify supports several low-risk and international payment gateways, Authorize.Net and smaller players like ePN (electronic Payments Network) are the most commonly used ways to integrate high-risk payment processing. 
Besides, Shopify discontinued Authorize.Net, many merchants fear swapping their sites without these integrations with another trusted source. However, existing businesses seem to be grandfathered. 
"Businesses with existing Authorize.net integrations will not be affected"
But, if you still don't like the limitation of Shopify merchant processing, here's a quick fix that allows you to leverage Shopify's front-end:
"Shopify with Konnective CRM allows you to charge in any currency or let you use any merchant processor". 
Still, is Easy Always Better – Shopify vs WooCommerce?
Undoubtedly, Shopify is a popular choice for eCommerce platforms on the internet. With 3,882,345 live websites running now, you might assume that Shopify is a safe option to launch a new website – and you are probably right. 
But, what if easy is not always better. What if it's not the "best" option for your business?   
The biggest question we'll unfurl is "Whether or not WooCommerce is a trusted Shopify payment alternative for high-risk businesses" – despite their business type. 
After all, it's time to look for an alternative!
But, before settling upon WooCommerce, start evaluating whether WooCommerce is an excellent option for an exquisite array of high-risk businesses by asking the below-pocketed questions: 
What makes WooCommerce an Ideal choice?

Which payment gateways can you integrate with WooCommerce?

Does WooCommerce provide reliable merchant service integrations? 

Which high-risk business types can use WooCommerce?
Let's start: 
What Makes WooCommerce a Trusted Shopify Alternative for High-Risk Merchants?
Unquestionably, WooCommerce is a reliable alternative for Shopify. Especially, it proliferated as a long-standing high-risk e-commerce favorite because of two things:  
WooCommerce is open-source.

WooCommerce has a minimal financial barrier to entry.
WooCommerce becomes the top pick for many high-risk businesses almost immediately due to its open-source solution. This means that WooCommerce operates within a less restrictive framework than its competitors. 
Simply put, WooCommerce offers an exceptionally flexible and reliable e-Commerce solution. 
Which Shopify Payment Gateways Can You Integrate With WooCommerce?
Discussing all the possible payment gateways with which WooCommerce is compatible might sound painstaking. However, we will cover the three top most important ones for high-risk businesses available in the market: 
All three are trusted, highly compatible with a range of shopping carts and platforms, and are naturally a viable choice for high-risk credit card processing when set up correctly. 
Though they are a considerable choice for high-risk merchants, and there's a myriad overlapping between what they offer, they are far different. You can check in-depth differences of what makes GETTRX an excellent choice for high-risk merchants. 
Besides, it's easy to use WooCommerce to sell your products if you dwell from any of the high-risk product categories: 
Online education coaching

CBD and hemp products

Vaporizers, vape, vape juice and e-liquid

Nutritional supplements and subscription services

Cigars and loose tobacco products

Online or in-person coaching

Firearms and tactical products

Bongs, pipes and glassware products
All in all, when you choose WooCommerce, you're free to sell a wide variety of products.
But, if you are still perplexed, that Shopify with Stripe gives small businesses an easier way to manage money. Think again!
Is Stripe worth the hype? Or is it because, 
Shopify had already been partnering with Stripe for years to power its Shopify Payments, so it's natural to work with Stripe for their offerings!
Any Guidance and Realistic Expectations from Payment Provider  "Stripe" – a BIG NO!
There are numerous businesses that Stripe shuts down out of the blue. Their strict terms and conditions limit e-commerce businesses to content with hurdles and sometimes more. 
While Stripe terms are available to sift through easily, they don't hint at what is and isn't possible during the onboarding process. Mostly, businesses shut down in a month or two-right when sales are skyrocketing – just because of the violation of the terms they didn't even know existed. 
Of course, no one wants to deal with all these hassles, right? Especially, when trying to run a business. 
Why Does Stripe Shut Down Accounts? 
A business could be shut down for numerous reasons. For example, if you are in a high-risk industry or the business model doesn't adhere to Stripe's preferences, you're at the edge of getting shut down. Even if you are running a legitimate business, Stripe can shut you down and take your funds while investigating whether they want to work with you.  
Here are the prominent reasons why Stripe shuts down accounts: 
High-risk industry

The exceptional increase in sales volume

Too many chargebacks

Several return requests
Imagine your online store is shut down because you had a significant increase in sales. Of Course not, this is why we say "NO" when asked if Stripe is a good choice. 
Unreal Expectations from Your Favorite Hosting Platform
Undoubtedly, dropshipping and ecommerce are ever-changing, as is everything in the digital world. That's why we thought to offer you an overview of the lucrative drop shipping industry that will help you realign your strategy right away. 
A report by Grand View Research states that the dropshipping industry is predicted to reach $557.9 billion by 2025, observing a CAGR of 28.8% in the forecasted period. Also, in another study by Statista, it's forecasted that the global drop-shipping market is all set to reach $196.78 billion in 2022 and will continuously grow, reaching $476.1 billion by 2026. 
So, if you are planning to start dropshipping, Shopify along with Stripe makes a popular choice to start!
But is your hosting platform and payment partner for your business a trustworthy choice?
Let's find out! 
After all, if your chosen payment provider does not support your dropshipping business, it will only lead to a lot of headaches! Let's see how! 
Why Stripe Doesn't Work Well With Shopify? What Shopify Payment Alternatives to Choose From?
Stripe allows dropshipping if your business is situated outside the Asia-Pacific or EMEA region. In this scenario, Stripe considers your business to be relatively low-risk and will offer you its respective services. 
Driving to this answer wasn't as easy as you might think. But, before we step ahead, here's a list of the businesses that aren't allowed to use Stripe's services. These businesses are prohibited for several reasons. For instance, some are considered financially risky, while others are regulated or illegal.   
And unsurprisingly, under the heading "Businesses That Attract Money-Laundering," there is dropshipping. 
Simply put, Stripe doesn't support businesses in Asia-Pacific (APAC) or Europe, the Middle East, and Africa (EMEA) regions. This is because those businesses are considered risky and have a higher probability of receiving more chargebacks.  
Stripe generally supports dropshipping businesses if they are situated outside those regions. The US is an example of a country that Stripe can support. Still, Stripe assesses and evaluates businesses in a case-to-case basis to determine their risks. 
Having just a US bank account is not enough to be supported by Stripe. To be accepted, you have to abide by their every regulation, like: 
Business should be registered in a country outside the APAC or EMEA region

You should have a bank account in that country

You should have a legitimate address and phone number of the specific country

Operate your business from a country outside the APAC or EMEA region
And, if somehow you are missing one or more of these criteria, Stripe won't allow your dropshipping business. 
Here, GETTRX – A reliable payment gateway, comes to the rescue. Its vision and technical prowess are reflected in GETTRX's sharp focus on innovative solutions for the payments processing of today and tomorrow. With solutions for every business at the best rates, GETTRX will help save your business money.
If you want to know how much you could save, fill out this Contact Us form and get started!
Frequently Asked Questions:
Qn 1. What are alternative payment methods for Shopify?
Alternative payment methods, also known as APMs, include options such as prepaid cards, eWallets (digital wallets), mobile payments, and online payments. They are referred to as alternatives because they are different from manual payments such as money orders and traditional payment methods such as credit cards.
Qn 2. What is the best third-party payment provider?
All three are trusted, highly compatible with a range of shopping carts and platforms, and are naturally a viable choice for high-risk credit card processing when set up correctly. 
Qn 3. Does Shopify take a percentage of sales?
There is no commission or transaction fee. Shopify does have three pricing plans: Basic Shopify, Shopify, and Advanced Shopify. The fees are $29, $79, and $299 per month, respectively. PRO TIP: If you are thinking of using Shopify to sell your products, be aware that they take a percentage of each sale.
Qn 4. What is a payment gateway vs payment processor?
A payment gateway is a place on a merchant's website where customers securely enter credit card information. A payment gateway also verifies that a customer's card is legitimate. A payment processor transmits card data from a merchant's point-of-sale system to card networks and banks involved in the transaction.