Shopify, one of the world's leading e-commerce platforms, hosts over half a  million businesses across 175 countries.
With this vast network comes the critical task of ensuring that every transaction is legitimate.
Recent data shows that the global cost of online payment fraud is projected to exceed $25 billion by 2024. This figure underlines the urgency and necessity for e-commerce platforms to implement rigorous security measures.
One such measure is the practice of holding funds by Shopify.
From verifying identities to scrutinizing high-risk industries and regions, there are numerous reasons behind these holds.
In this comprehensive guide, we look into the reasons behind these fund holds, preventive measures merchants can adopt, and proactive steps to take if you find your funds inaccessible.
See How Shopify Uses Payments to Hold eCommerce Sellers Hostage
Key Takeaways
Shopify may hold funds to mitigate risks, ensure transaction legitimacy, and protect all parties involved.
Factors such as unverified identities, recent changes to bank accounts, living in high-risk regions, and operating within high-risk industries can trigger fund holds.
Merchants can reduce the risk of holds by regularly reviewing transactions, implementing multi-factor authentication, using services like AVS and CVV checks, and maintaining clear communication with customers.
Communication with Shopify support is vital, but merchants should also consider providing required documentation promptly, exploring alternative payment processors, and tapping into the Shopify community for shared experiences.
For those facing recurrent fund holds, switching to a tailored solution like GETTRX may offer a more streamlined payment processing experience.
Understanding the reasons behind payment holds, staying updated with Shopify's policies, and approaching such scenarios with patience can make navigation smoother.
While holds are a challenge, they also present an opportunity for merchants to refine their processes and bolster trust in their operations.
Why Would Shopify Hold My Funds?
Every online merchant wants the transaction process to be smooth and seamless.
However, the reality is that payment processors, including Shopify, have various checks and balances in place.
These measures ensure both the merchant's and consumer's protection. Sometimes, these protocols might lead to temporary holds on your funds.
Let's explore some of the common reasons.
Your Identity is Being Verified
To maintain the security and integrity of its platform, Shopify places a high premium on verifying the identities of its merchants.
This is not just a Shopify-specific protocol; it's a standard across financial and e-commerce platforms.
This process safeguards against potential fraudulent activities, ensuring that those accessing funds are the rightful account owners.
If there's any ambiguity or doubt regarding a user's identity, holds can be triggered as a precaution.
You've Added a Card That Needs to be Verified
Credit cards are common targets for fraudulent activities. When a new card is added to Shopify or if there's something about the card that might seem out of the ordinary, it can be flagged for verification.
Holding funds at this stage is a preventive measure to ensure that the card is legitimate and that transactions made with it are genuine.
You Recently Added a Bank Account
Newly added bank accounts to the platform can also be a reason for fund holds. This is because bank details are sensitive, and Shopify needs to ensure the provided information is accurate.
Just as with credit cards, verifying bank accounts is a standard procedure aimed at protecting both the merchant and the platform from potential fraud.
You May Have a Possible 14-Day Hold
Especially relevant for new merchants or those with irregular transaction patterns, the 14-day hold is a measure to observe and assess transaction activities.
This window gives Shopify a buffer to detect and prevent any potentially anomalous or fraudulent activities. It's a routine precaution that allows the platform to ensure the safety of all transactions.
Failed Document Submission
Documents serve as tangible proof of identity, business operations, and other vital aspects of a merchant's profile.
If the documents provided to Shopify are unclear, outdated, or deemed inauthentic, this can be a ground for holding funds.
You Live in a High-risk Country/Region
The global financial ecosystem isn't uniform. Some countries or regions have been flagged as "high-risk" due to a higher propensity for fraudulent activities or other economic and political factors.
If your business operates from one of these areas, it might influence how Shopify interacts with your funds.
While changing your country of operation isn't a quick fix, maintaining a transparent business profile and keeping a clean transaction history can ameliorate some of these concerns.
You Operate in a High-Risk Industry
Beyond geographic locations, certain industries carry a "high-risk" label. These might be sectors with historically high chargeback rates, legal complexities, or stringent regulations.
If your business falls within these categories, you may face closer scrutiny.
Shopify may hold funds for merchants operating in these domains as an added layer of protection.
Consistency in Billing Details
If Shopify notices inconsistencies in your billing details across transactions, it can prompt a review of your funds.
Regularly updating and ensuring your billing details match across all your business platforms can significantly mitigate this risk.
Multiple Failed Transaction Attempts
Multiple failed transaction attempts in a short time can also be a red flag. This can sometimes be indicative of potential fraudulent activity or system manipulation.
If you notice an unusual number of failed transactions, it might be worth reviewing and potentially consulting Shopify support.
Previous Account Suspensions
Past behaviors can sometimes influence present actions. If you've previously had an account suspension or faced disciplinary actions due to violations of Shopify's terms of service, you might be on a tighter leash.
This could lead to more frequent reviews and holds on your funds.
Disputes and Customer Complaints
A higher-than-average rate of customer complaints or disputes can naturally lead to increased scrutiny.
Shopify, in its bid to ensure the utmost satisfaction for buyers, might hold funds if they notice a trend of unresolved complaints or disputes tied to your account.
Addressing customer complaints promptly and ensuring a high level of customer service can help in this aspect.
Abrupt Changes in Product or Service Offerings
Let's say you've historically sold books and suddenly pivoted to selling high-end electronics.
Such abrupt changes in your product or service offerings can trigger Shopify's review systems.
It's always a good idea to gradually introduce new product lines or, better still, notify Shopify when making such significant changes to your business model.
Also Read: How Shopify and Stripe's Unrealistic Policies Place Dropshippers in a Tough Spot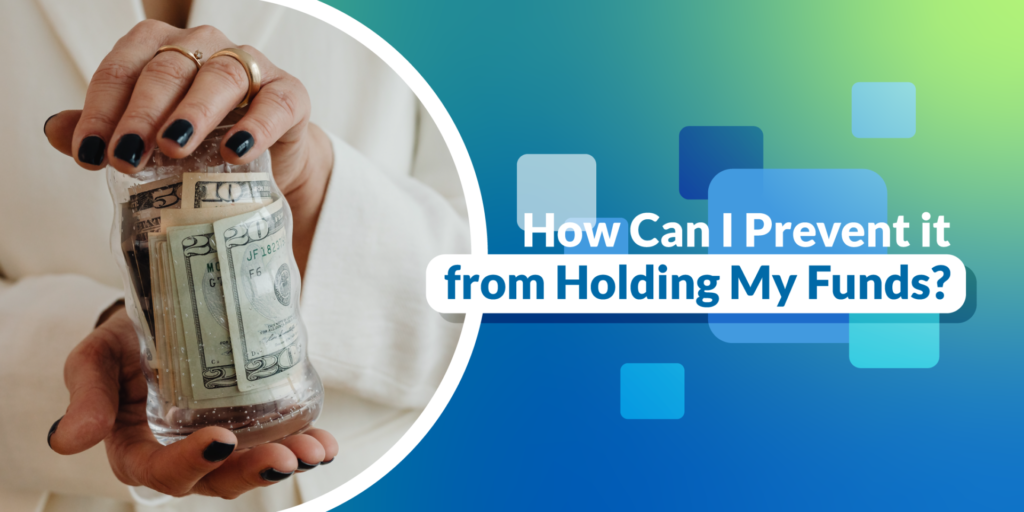 How Can I Prevent Shopify From Holding My Funds?
Ensuring a smooth flow of funds in your business operations is crucial.
Nothing dampens the entrepreneurial spirit like unexpected payment holds, especially when sales are booming.
While we've discussed the reasons Shopify Payments might hold your funds, it's equally important to know how to prevent these holds or at least reduce their frequency.
Here are some measures you can take:
Check Your Chargeback Ratio
A high chargeback ratio is often a red flag for payment processors. Chargebacks occur when customers dispute a charge, leading to a forced transaction reversal.
Consistently high chargeback ratios can signal potential issues with the products or services being offered, or possibly indicate fraud.
Monitor this ratio closely and aim to keep it below industry standards. If it begins to climb, assess your business practices and take corrective measures.
Considering Refund Amounts
Frequent and large refund amounts can be a cause for concern. If Shopify notices that you're often refunding significant amounts, they might interpret this as a sign of business instability or potential customer dissatisfaction.
It's crucial to understand the root causes of these refunds. Implementing stringent quality control, setting clear product or service descriptions, and enhancing customer support can reduce the need for refunds.
Contact the Risk Department
Proactive communication can often be the solution. If you're facing recurrent payment holds, directly reaching out to Shopify's Risk Department can provide clarity.
They can offer insights into why the holds are happening and suggest steps to reduce or eliminate them in the future.
This approach not only helps in resolving issues but also showcases your commitment to running a genuine and transparent business.
Ensure Transparency in Business Operations
Being transparent in all your business operations can significantly reduce the chances of fund holds.
This includes providing clear product descriptions, setting realistic delivery timelines, and being upfront about any business changes or challenges.
Transparent operations build trust, and with increased trust, payment processors may be less likely to place holds on your transactions.
Regularly Update Business Information
Ensure that all your business information on Shopify is up-to-date. This includes your address, contact details, bank account information, and product descriptions.
Any discrepancies in this information can lead to increased scrutiny and potential holds.
Educate Your Customers
Informing customers about your products, services, and billing processes can prevent misunderstandings.
This is particularly crucial for subscription-based models where customers might forget about recurring charges.
Send reminders, have detailed FAQs, and ensure your product descriptions are clear and comprehensive.
Introduce Multi-factor Authentication
A great way to ensure that transactions are legitimate is by implementing multi-factor authentication (MFA) for purchases.
While it adds an extra step for the customer, it significantly reduces the risk of fraudulent transactions, thereby increasing confidence in your store from the perspective of payment processors.
Conduct Regular Transaction Reviews
Set aside time to periodically review your transactions. Look for patterns, such as frequent large orders from new customers, which might be considered unusual.
If you spot such transactions, you can take preemptive measures like reaching out to the customer for confirmation or even pausing the shipment until you're sure of the transaction's legitimacy.
Use Address Verification Service (AVS)
Implementing an Address Verification Service can significantly reduce fraudulent transactions. AVS matches the known address of the cardholder with the address entered at checkout.
Discrepancies can be flagged, allowing you to review the transaction more thoroughly before processing.
Implement CVV Checks
Requiring the Card Verification Value (CVV) at checkout is another layer of security. It ensures that the person making the purchase has the card in their possession, further reducing the risk of fraud.
Foster Positive Customer Relationships
Building strong relationships with your customers goes a long way. Encourage feedback, promptly address concerns, and create an environment where customers feel comfortable reaching out.
A customer who can easily get in touch with you about a charge they don't recognize is less likely to file a chargeback.
Maintain Detailed Records
Keep meticulous records of all transactions, communications, and any other relevant activity related to sales. This can be invaluable if you ever need to dispute a hold or chargeback.
Evidence, like signed delivery receipts or correspondence agreeing to terms, can tip the scales in your favor.
Stay Updated on Shopify's Policies
Shopify, like many processors, periodically updates its terms of service and policies.
Ensure you're always in the loop regarding any changes. This can help you adapt and stay compliant, reducing potential issues.
Try a New Payment Processor
If holds become a recurrent issue and start to significantly affect your business operations, it may be time to consider a switch.
GETTRX is a reliable payment processing platform tailored to suit various business needs. We offer prompt approvals, quick funding, and round-the-clock customer support.
Explore GETTRX's offerings and see how we can enhance your e-commerce journey.

What To Do if Shopify Payments Is Holding Your Funds
Facing a fund hold can be disheartening, especially when you've taken measures to prevent it.
However, it's essential to remain calm and take systematic steps to resolve the issue.
Here's a comprehensive what to do when you find Shopify holding your funds:
Communicate with Shopify Support
Before taking any drastic measures, your first step should always be to get in touch with Shopify Support.
They can provide specific reasons for the hold and guide you on the necessary steps to have the funds released.
Always keep communication lines open and ensure that you understand their concerns.
Review the Issue at Hand
Once Shopify informs you of the reason for the hold, review the issue.
It could be related to a single transaction, a specific product, or perhaps an overall pattern in your business operations.
By understanding the root cause, you can take corrective measures to prevent similar holds in the future.
Provide Requested Documentation Promptly
If Shopify Payments has put a hold on your funds pending additional documentation or verification, ensure you provide these as quickly as possible.
This could be proof of delivery, transaction records, or business-related documents.
Ensure that all submitted documents are clear and relevant to expedite the review process.
Try a New Payment Processor
If you find that fund holds are becoming a recurrent problem and affecting your cash flow negatively, it might be time to consider an alternative.
GETTRX offers tailored payment solutions designed to cater to various business needs, and their dedicated support can help ensure smoother payment processing.
Discover the advantages of GETTRX for your business now.
Stay Calm and Seek Community Support
The Shopify community is vast, and many merchants have likely faced similar challenges. Engage with the community, share your experience, and seek advice.
Sometimes, practical solutions come from peers who've been through the same situation.
Remember, payment processors like Shopify Payments implement these measures primarily to protect against fraud and ensure a secure ecosystem for all parties involved.
Implement Preventive Measures
Reflect on the reason given for the fund hold. If it's due to high chargebacks, consider implementing stricter authentication processes.
If it's related to specific products, review your suppliers or quality control processes.
Use this as a learning experience to fortify your business operations.
Consider Arbitration
In rare cases, if there's a disagreement between you and Shopify that cannot be amicably resolved, you might consider arbitration.
This should be viewed as a last resort and only after all other avenues of resolution have been exhausted.
In conclusion, facing a fund hold is undoubtedly a challenge, but with the right approach, it's one that can be navigated successfully.
By understanding the root causes, communicating effectively, and considering alternative solutions like GETTRX, you can ensure your business continues to thrive.
Final Thoughts
The relationship between merchants and payment processors is of paramount importance. Both parties share a mutual goal: to facilitate smooth, efficient, and secure transactions that benefit the end-user.
However, as we've explored, there are instances when bumps in the road, like fund holds, can strain this relationship.
Shopify primarily establishes these holds to protect the vast ecosystem of buyers, sellers, and financial institutions.
Their goal is not to impede your business but to ensure that transactions are legitimate and that the risk of fraud is minimized.
For merchants, the key lies in proactive prevention. By familiarizing oneself with potential triggers for fund holds and implementing robust preventive measures, many of these situations can be avoided.
Furthermore, fostering open communication with your payment processor can help address concerns promptly and effectively.
Yet, in instances where holds become recurrent or severely impact your business, exploring alternative payment solutions, such as GETTRX, can offer a fresh avenue of operation, tailored to your specific needs.
As always, we're here to guide and support you on this journey. Contact us now!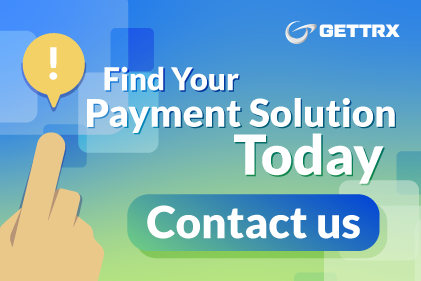 Frequently Asked Questions (FAQs)
How long does Shopify typically take to release funds after a hold?
While it varies, fund holds typically last for 30-120 days, but can be shorter or longer based on the nature of the issue causing the hold.
Are there other payment gateways I can integrate with Shopify if I want to avoid using Shopify Payments?
Yes, Shopify supports various third-party payment gateways like PayPal, Stripe, and Authorize.Net, among others, offering flexibility in your choice of transaction processing.
Does Shopify support multi-currency transactions?
Absolutely, Shopify Payments supports multiple currencies, allowing your customers to pay in their preferred currency while you receive payments in yours.
If I switch payment processors, will my previous transaction history on Shopify be affected?
No, your transaction history remains intact on Shopify, regardless of the payment gateway in use.
Are there additional fees associated with fund holds or releasing held funds by Shopify Payments?
While Shopify Payments doesn't typically charge additional fees for fund holds, it's crucial to review your agreement for any unique conditions or exceptions.
Can I appeal a decision by Shopify if I disagree with a fund hold?
Yes, merchants can reach out to Shopify Support to discuss and potentially appeal decisions related to fund holds, though outcomes will vary based on individual circumstances.
Do fund holds affect my store's reputation or rating on Shopify?
Fund holds are internal financial checks and do not directly impact your store's reputation or rating on the Shopify platform.
Why is my business considered "high-risk" by Shopify?
High-risk classifications often result from the business model, industry type, or potential for high chargebacks. Some industries, like adult entertainment, gambling, or specific financial services, inherently carry more risk from a payment processor's perspective.
How long does it take for Shopify to verify a newly added bank account?
Typically, Shopify verifies a newly added bank account within 3-5 business days. This period may vary based on the financial institution or if additional verification is required.
Can I appeal if I disagree with the fund hold decision?
Yes, you can reach out to Shopify Support to appeal a fund hold decision. While there's no guaranteed outcome, providing necessary documentation and clarifications can potentially expedite the resolution process.